There would be hardly anyone who does not like to be in the ultimate comfort during the summertime. Well, the best way to achieve that comfort is by having your air conditioning system installed in the house. Apart from reducing the scorching heat and keeping a calm and cool environment, it has various other benefits as well. By installing air conditioning, you can easily maintain a healthy atmosphere at home.
Needless To Say, It Induces Quality In Our Daily Life. Let's See How Many Ways Having Air Conditioning Can Help Us.
1. If someone has asthma
Asthma attacks are dreadful to handle especially when it is your children or aged parents. We all know that asthma attacks happen more frequently in the summer days because of the scorching heat. Therefore, they become more exposed to this problem. On the other hand, when you have the air conditioning system installed, it will help you maintain a pleasant temperature in your house. So, your loved ones become safe in the summer.
2. Get better health with better air quality
Installing air conditioning is another way to breathe easier. Because of inadequate ventilation and warming, the air you are breathing inside the house becomes a health concern, containing everything from dust to bacteria. One can get a headache, cold, cough, etc as a symptom.
By enhancing airflow and managing the indoor temperature of the house, your air conditioning system acts as a filter. There are numerous other ways to improve the quality of your air, but AC is the most effective.
3. Security gets better
One other great benefit of using AC is the increased security they provide. Consider this: you leave the windows and doors closed to enable the system to chill the house.  However, by blocking all entry points inside the property for unwelcome visitors, you are also protecting yourself from thievery of any form. Because not everyone who owns an air conditioner lives in a high-security location, this can be a wonderful method to feel more secure and cautious.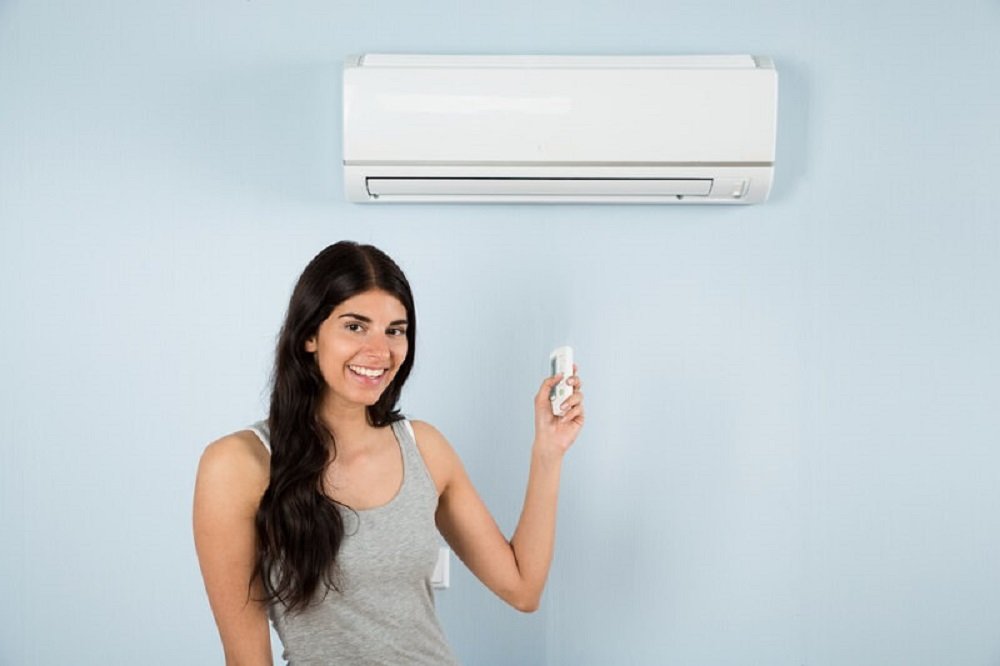 4. Achieve better mental health with Air conditioning
It is a common term that most people around the world use that you should always keep your calm and think from a cool mindset to get the best ideas in times of emergencies and a lot more. Thus, to get over such situations, you can simply get over stress and daily work-life frustrations by sitting under an air conditioning unit. It would not only keep you calm but also help improve health-related problems like high blood pressure and a lot more.
5. Protect your furniture and other indoor stuff
The presence of high amounts of humidity is nearly always accompanied by hot temperatures. Humidity can cause significant damage to skin and hair very easily, but it can also ruin our furniture, personal belongings, and appliances. This is especially true for leather furniture, which is particularly susceptible to damage from humidity because it absorbs moisture, which in turn causes mold in your precious furniture and other indoor stuff. Also, garments such as coats and clothes have an increased risk of deterioration in an atmosphere with such high levels of humidity.
6. Good for electrical devices
Adding to the effects of heat on any individual's body and mind, your electrical equipment is indeed likely to suffer greatly and is subject to overheating. Many pieces of equipment, including mobile phones, microwaves, and toasters, are vulnerable to heat damage. By using the AC, one can retain not only the health but also the functionality of their electrical devices.
7. Get a good night's sleep
We cannot spend our day without having a good night's sleep. When you have a lesser amount of sleep, your entire day is ruined. And the summer is almost like this. However, when you have an air condition home, you can easily spend your nights in utmost comfort having a sound sleep. It helps you have a wonderful next morning.
Conclusion
So, these are the few benefits that one can achieve by installing an air conditioning home. There are various advantages as well knowing about which is also important. In brief, it helps you achieve great physical and mental health, bacteria free house. Also, it is great for parents and children to be safe in the summer.