Sunlight can drastically change the feel and the look of a room. It gives us daily energy and encourages us to take on the day. Also, studies have shown that daylight raises human comfort and productivity. The other benefit of more natural light is the smaller electricity bill, of course.
If you are looking for ways to let more light in, the following 6 tips will be of great use to you.
Some Suggestions Below Might Require Some Minor Renovation Work To The Done Around The House: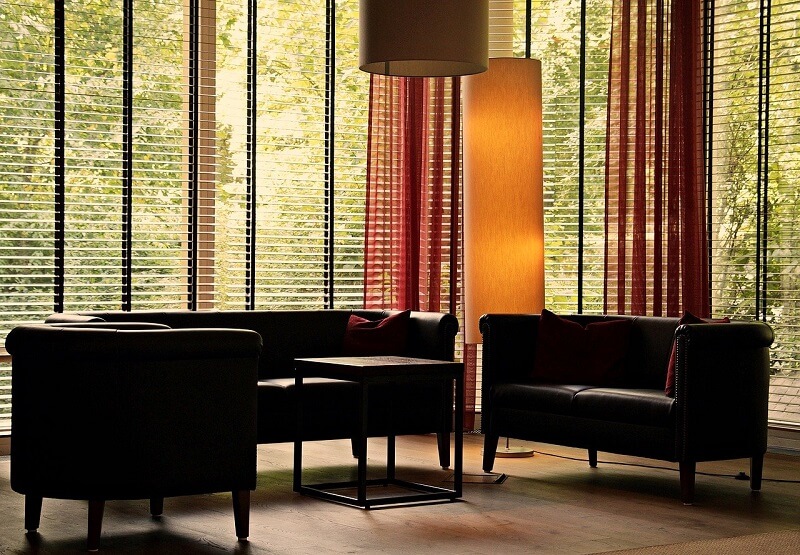 1. Choose The Right Blinds
This is the easiest way to control sunlight in your home and decide whether you want more sun or shade. Even nowadays, blinds are incredibly modern and are a preferred choice by many homeowners. They come in a whole lot of nice materials and textures, as well as shapes and colors. All this means that you'll definitely find blinds that fit your style and your particular needs regarding controlling sunlight. Plus, they are incredibly efficient in setting the mood. Some of the most popular blinds on the market today include:
Roller blinds – they are simple and stylish, usually made from various fabrics with different levels of transparency.

Wooden blinds – a great way to introduce natural colors and textures into the room. Wood creates a feeling of warmth and plays nicely with natural light.

Venetian blinds – they are made from horizontal slats, joined together with a fabric rope. The slats themselves are made from different materials and in many colors.

Vertical blinds – these are fabric blinds, and they are perfect for controlling the light levels in a room. The vertically situated slats allow for both full sunlight access and complete privacy.

Roman blinds – they are a very stylish choice that can really make your windows pop. The fabric is cascading, and as you raise and lower the blinds, it neatly folds back on itself. They do, however, block the sunlight to some degree, so you need to have that in mind.

Blackout blinds – they are made from a thick material and cover the windows tightly from end to end, allowing for a good night's sleep. During the day you can roll them right to the top, allowing for full sunlight access.
2. Take Full Advantage Of Your Windows
After you have installed the blinds in your rooms, leave them open during the day. Make sure your windows are not blocked by tree branches or patio furniture. The area outside the windows needs to be completely clutter-free, otherwise, the whole idea of a window is pointless. During hot days outside, you can consider opening your windows with the bug screen left down, to let in some fresh air. Avoid tinting your windows, as this severely limits the sunlight exposure, and when you decide to remove it, there will be glue marks that are hard to clean.
Note: Besides increasing the natural light in your home, you can also learn how to reduce power consumption by utilizing renewable energy systems. The "Your Home" website (Australia's guide to environmentally sustainable homes) offers you countless other tips on reducing water usage, adapting your home to be more resilient to environmental and demographic changes, and choosing the right materials that reduce harmful health effects and minimize waste.
3. Hang A Mirror
Amplify the natural light in your home by hanging a large mirror. You can move it and experiment with different angles to consider which are all the new areas the light reaches. This trick is helpful for small rooms, making them feel larger. If you place the mirror near the window or opposite to it, the mirror will mimic the window and will seem like you have more windows in your room, which is a very neat trick. You can also experiment with different shapes of mirrors, some experts claim that rectangular mirrors create the feeling of being boxed up, while round mirrors open up space and make the room more prominent.
4. Keep Windows Clean
A simple cleaning can improve a window's transparency by 10 to 20%. So don't forget to clean your windows because doing that on a regular basis can make a significant difference. Many window cleaning tips online suggest using a newspaper. However, this is not always a good idea. The ink on the paper can get transferred to the window if you use an alcohol-based cleaner. This will leave unpleasant and hard-to-remove smudges. Instead, just use a sponge, a squeegee or microfibre cloth, and your standard window cleaner. If you're a fan of natural cleaning a 50/50 solution of white vinegar and water in a spray bottle will do wonders for you.
5. Painting The Ceiling
The color and texture of your ceiling are also pivotal to the amount of light your home will get. Dark ceilings are perfect only for bedrooms if you want to create a fully dark environment for good sleep. Otherwise, your ceiling should be one of the lightest elements in the room. Here the magic tip is to paint your ceilings in a lighter tone than your walls. Paint them just a shade lighter to balance out your space. This will make you feel your room more open. And when it comes to texture, adding some relief to your ceiling might seem like a good idea, but it's only suitable for big rooms. The shapes absorb the light and can make a smaller room look gloomy and dark. Glossy white ceilings work best with natural light because they reflect everything. Nonetheless, this outlook doesn't suit everybody's tastes.
6. Reflective Wall Decor
Reflective surfaces on your walls, like mirrors, for example, can do a lot to brighten up your rooms. Other tips to make your walls pop is to use furniture in a glossy finish, picture frames, or light fixtures. With that type of décor, the light will bounce around and give an impression of more light.