Whether you're remodelling your bathroom, building a brand new one, or just freshening up a few details, you absolutely need to know the latest from the bathroom renovation trends. Take a look at what's trending right now and see what you like, and what you think will maybe stand the test of time.
Here Are The Modern Bathroom Renovation Ideas That You Can Incorporate Into Your New Design:
Porcelain Tile
Do you think that porcelain tiles are outdated? No, they are quite popular in bathroom design in 2021 too. That type of tile is far more durable and admits for highly realistic texture and colour depth than do other ceramic tiles. Wall and floor tile colours and styles range from classic stone reproductions to sleek contemporary ones that make your bathroom more comfortable, clean and good-looking.
Marble Bathroom Design Ideas
Do you know what walking into a bathroom designed with granite or marble feels like? It seems you walk into a place of a luxury. It's just that marble exudes class. One of the most popular marble styles is the white bathroom colour with grey accents that go well with several other accent colours. This bathroom renovation design style gives a sense of cleanness and elegance. Also, it gives the space a feeling of calmness that makes you think you're on spa procedures. Marble could be used for the floors, countertops, and walls. Bear in mind that there are other marble colours, such as pink, black, brown, and green, so opt for the colour that suits your style the most.
Granite Bathroom Trends
Granite comes in so many different colours and because of that, your remodelling options are endless. With its wide variety of coloured crystals, your bathroom will be both durable and beautiful.
Gray Colour Scheme
White has long been the traditional choice for bathrooms. But now, in 2021, grey has become the colour to incorporate into your bathroom design. So why not work with both, making white the primary colour of your bathroom and using grey for making certain features in your bathroom pop out.
Soaking Tubs
If you want to relax in your bathroom, simply get a tub. That way you'll make your bathroom an excellent space to unwind after a long day at the office. Choose a standalone soaking tub in a traditional or modern design. And even if you add the tub, leave the shower be. You can book one of the Fantastic bathroom renovation teams which will design your new bathroom so it incorporates both styles well enough.
Shower Benches
Not every bathroom has enough space for placing a soaking tub in it. In these cases, a nice shower bench will work too. With people spending more time at home lately, it's important to turn the bathroom into a place where you can relax and enjoy some spa-like amenities. Stone benches are an investment, but they will bring that look to you.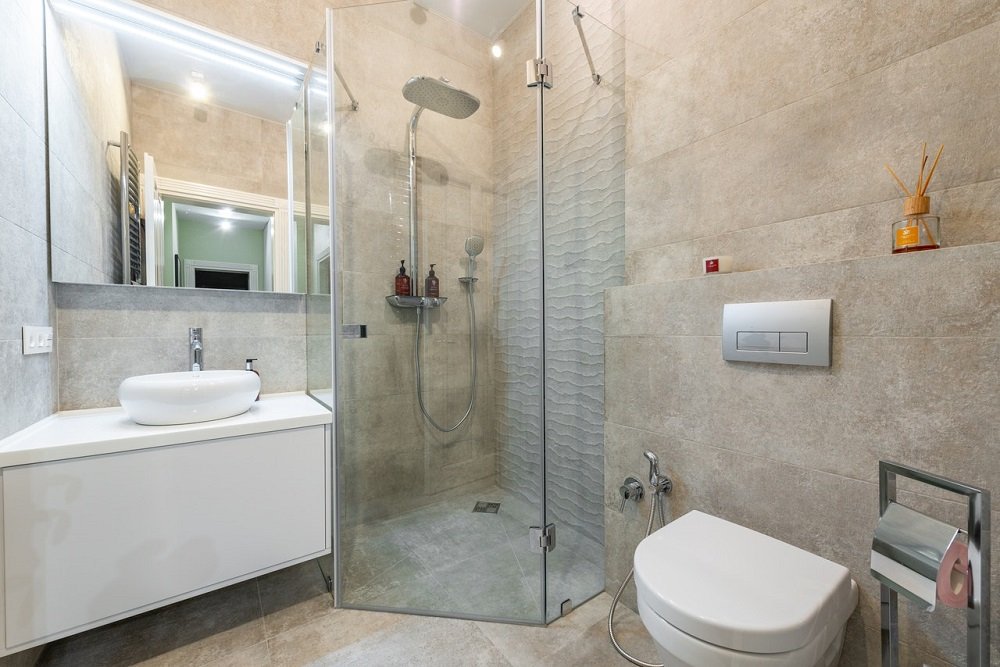 Steam Showers
If you are truly a fan of the spa experience, then you need a steam shower at home. This bathing experience is one of the hot trends of this year. It's literally a bathroom upgrade with an option to steam your bathroom upon request. In order to include the steam feature in your shower system, you must ensure that your doors shut tightly from all angles. Installing a vapour barrier and framing the walls of the bathroom is also compulsory because you can't prevent moisture and mould otherwise. You have a lot of options when it comes to steam generators — the best way to figure out which is the best for you is to talk with a supplier and explain your needs.
LED Lighting
LED fixtures and bulbs are becoming more popular by the day. Adding LED lighting to your bathroom is more expensive, but at the same time, it's a lot more beautiful than the regular lighting options. You can also hide the LEDs into mirrors, for instance, making grooming and makeup feel even better. With LED you'll make your bathroom more elegant and save up on electricity at the same time.
Eco-Friendly Fireplaces
Can you imagine what could it be if you had a fireplace in your bathroom? Spending countless hours in there would be just amazing. And if your bedroom and bathroom are one in front of the other, you could make the fireplace the focal point, which connects both.
Heated Flooring
Everyone hates cold floors, especially in the bathroom. The problem, however, can be easily fixed by adding a floor heat system. The tiny electric coils will make your floor warm seven days a week, making you feel even better when taking a hot shower in the winter.